Pharmaceutical Warehouse Automation (PWA) IRCCS Galeazzi Sant'Ambrogio Hospital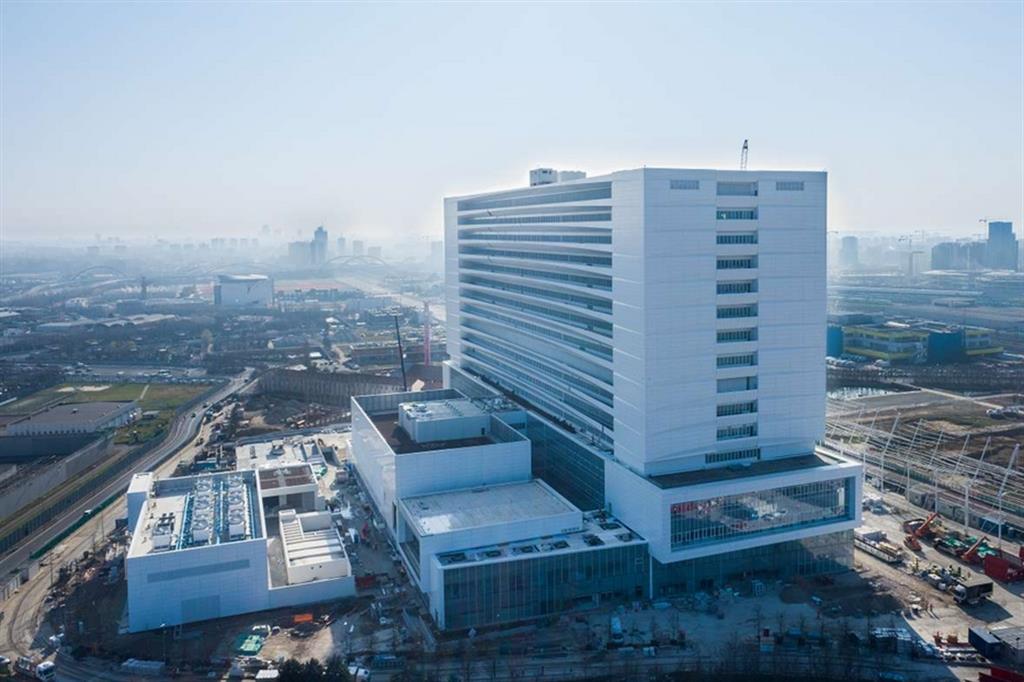 THE CLIENT
The new Galeazzi Sant'Ambrogio Hospital is one of the largest facilities in Italy. It is the result of the merger of two hospitals from the San Donato Group: the Galeazzi Orthopedic Institute and the Sant'Ambrogio Clinical Institute.
This single block structure stands at 16 floors, 94 meters high, with 600 beds, an emergency room, diagnostic imaging, over 100 specialized outpatient clinics, and 32 operating theaters.
The staff comprises around 1,800 individuals.
REQUIREMENTS
A computerized pharmaceutical cabinet to manage the processes of:
Drug allocation
Preservation
Inventory management
Assembly of deliveries for the departments
Consumption analysis
Management control
Reordering and supply.
THE NEEDS
The Riedl Phasys solution by GPI for Pharmaceutical Warehouse Automation (PWA) was deemed the best in competition, based on a qualitative assessment of: Company Profile, Project Proposal, Implementation and Management Strategy, Architecture and Technologies, Security, and Privacy.
It meets the needs for:
Clinical risk prevention/reduction

Pharmaceutical expenditure reduction/rationalization

Dematerialization of departmental drug requests

Drug logistical process monitoring/optimization
Complete traceability of all clinical drug management processes.
THE CHALLENGES
Riedl Phasys has enhanced the efficiency of the service without increasing the number of staff.
In such a vast and intricate facility, governing the drug management process using the same manual storage and delivery methods found in the original two hospitals would have led to an exponential increase in resources.
GPI undertook the task of training the involved staff and, thanks to constant on-field assistance, prevented any potential malfunctions due to inappropriate system use.
THE SOLUTION
The automated pharmaceutical cabinet designed for the Galeazzi Sant'Ambrogio Hospital serves the entire facility and consists of three main elements:
A temperature-controlled drug storage area
An automatic basket preparation area for the departments
A drug loading area.KEY FEATURES

Integration with department request software that is automatically received by the cabinet for basket preparation.
Automatic preparation of picking lists for materials outside the cabinet (cylindrical containers, etc.).
Preparation of reorder lists for items running low.
THE BENEFITS
Complete automation of the drug loading/delivery cycle within the facility. Notably, automatic drug loading via conveyor belt and hopper that recognizes the drug type and places it in the cabinet, considering different expiration dates.
Automatic management of approximately 23,000 boxes on average, corresponding to about 600 drugs.
Management of drugs external to the computerized cabinet through automatic preparation of dedicated picking lists.
Management of 3 weekly deliveries for roughly 50 departments/operational units spread across the 16 floors of the building.
Complete traceability of drugs from arrival to department delivery.
The number of pharmacy service staff remained essentially unchanged compared to the original facilities.
Future Evolution / Objectives
Introduction of intelligent department and operating room cabinets to automate consumption registration.
Adoption of the drug logistics automation system in the two most significant facilities of the San Donato Group: the San Raffaele Hospital and the San Donato Polyclinic.