Water: a unitary project of health and environmental sustainability
President Fausto Manzana's starting point comes from an observation: we are a company spread throughout many territories, Italian and foreign, and across many businesses; we need to recognise ourselves and then see ourselves on a path that unites us all, none excluded. Guiding us is the idea of all-round sustainability and adherence to the UN 2030 Agenda: therefore, the first concrete action we put in place must be begin with water, the origin and source of life.
At a key moment in our history, we are choosing to travel the path of sustainability, a path that will never end, a path in which we must find and build our Group identity, putting environmental issues and well-being in first place.
We will be taking our first step at the beginning of June: all Group employees, including those at foreign companies and social cooperatives that work with us, will receive a free water bottle bearing the GPI label. A first gesture, symbolising our desire for unity and cohesion, a starting point for achieving increasingly ambitious goals.
The initiative, as mentioned, is intimately linked to the United Nations 2030 Agenda for Sustainable Development, which identified the 17 goals to be achieved, ranging from eliminating hunger and poverty to the commitment to reduce inequalities. In our case, we have set two specific goals with this action: (i) to significantly lower the use of plastic water bottles, replacing them with glass bottles, thus avoiding generating tonnes of waste per year; (ii) to promote water consumption during our workday, increasing our level of physical and mental health.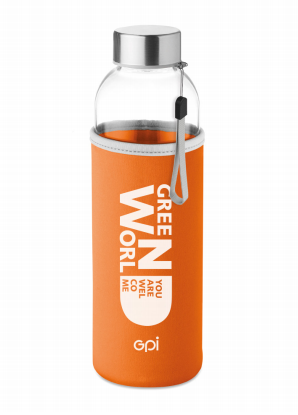 The water bottle is made of glass, a non-trivial choice. We chose not to make the body out of plastic – it would have been a contradiction with respect to the purpose for which it was conceived -, but we also rejected aluminium, which likewise presents recycling problems. Glass is the material that permits the best water preservation, bottle cleaning and material recycling at the end of life Its structure is robust and designed for typical desk use. A tribute that GPI is paying to all of us who, regarding the expanded Group, number more than 7,000. The graphic chosen, which reflects the brand's colours, was selected by a focus group of some of our colleagues from material developed by the Marketing division.
After washing the water bottle, we can fill it with running water. In 22 Gpi offices, within 12-18 months, special dispensers will be installed to ensure fresh, safety-controlled water, with the option of adding carbonation, to satisfy every taste. The dispensers will be installed in GPI refreshment areas which will be restyled and revitalised in the coming months.
The cardboard packaging of the water bottle also gives a nod toward environmental sustainability. The lower part has been designed to be used as a pen holder. If reuse is one of the keywords of this new deal, let us be the first ones to put it into practice.
The project was conceived and pursued from the earliest stages by the Marketing and General Affairs Areas. As President Fausto Manzana has said, this is an important piece of the fil rouge which will unite all upcoming Gpi initiatives.
For our "Water" project, Mr Michele Pizzinini, a specialist in Food Sciences working in Policura, sent us some pearls of wisdom.
• Water, as a food, is generally little considered by people: this is because of its absence of calories and very "limited" organoleptic characteristics compared to other widely consumed foods.
• In reality, water is the main nutrient for bioregulation.
• Water is an indispensable food for vital functions.
• Metabolic reactions occur in water.
• Water facilitates fluidification of foods and their passage through the digestive system.
• Water allows the passage of substances from cells to intracellular spaces and blood vessels and vice-versa.
• Water allows for body temperature regulation.
• Every day we should drink about 2-2.5 litres of liquids, partly in the form of drinks, partly in food, such as soups, fruits and vegetables, since about 90% of our weight is given by water.
• On average, in one day our skin and lungs disperse 0.9 litres of water (of which 0.4-0.5 litres is at night with breathing); urine and stool 1.6 litres. To have a correct balance it is necessary to drink 2.2 litres per day, which are added to the 0.3 litres produced by the body through metabolic production.
• The need for water increases if it is very hot or during sports: in one hour of physical activity in summer you can lose up to a litre.
• The kidneys filter around 180 litres of blood every day, producing around 1.5 litres of urine.
• Water is important as a nutritional factor in relation to the content of mineral salts, some of which are essential for metabolism. These include the macroelements (requirement > 100 mg/day, such as calcium, phosphorus, sodium, potassium, chlorine, magnesium, sulphur); microelements (requirement 1-100 mg/day, such as iron, copper, zinc, manganese, iodine, molybdenum, selenium, fluorine, bromine, chromium, cobalt, silicon, boron); and finally trace elements (requirement a few mg/day, such as nickel, germanium, vanadium and tungsten).
• Beware of all sugary drinks! Any sugary drink contains about 8 teaspoons of sugar!